CIS & A-PAD jointly arranged an International Symposium on "Disaster Risk Management and Building Resilience: Safer Community, Safer Society" at Utshab Hall, Radisson Blu Dhaka Water Garden, Dhaka, Bangladesh on 22 November 2022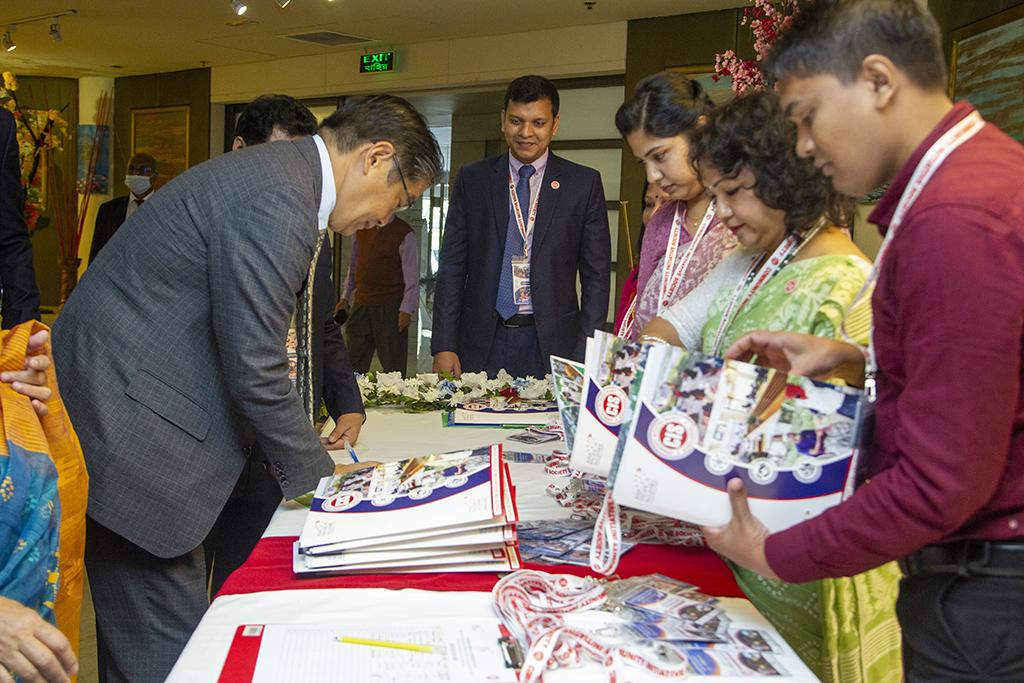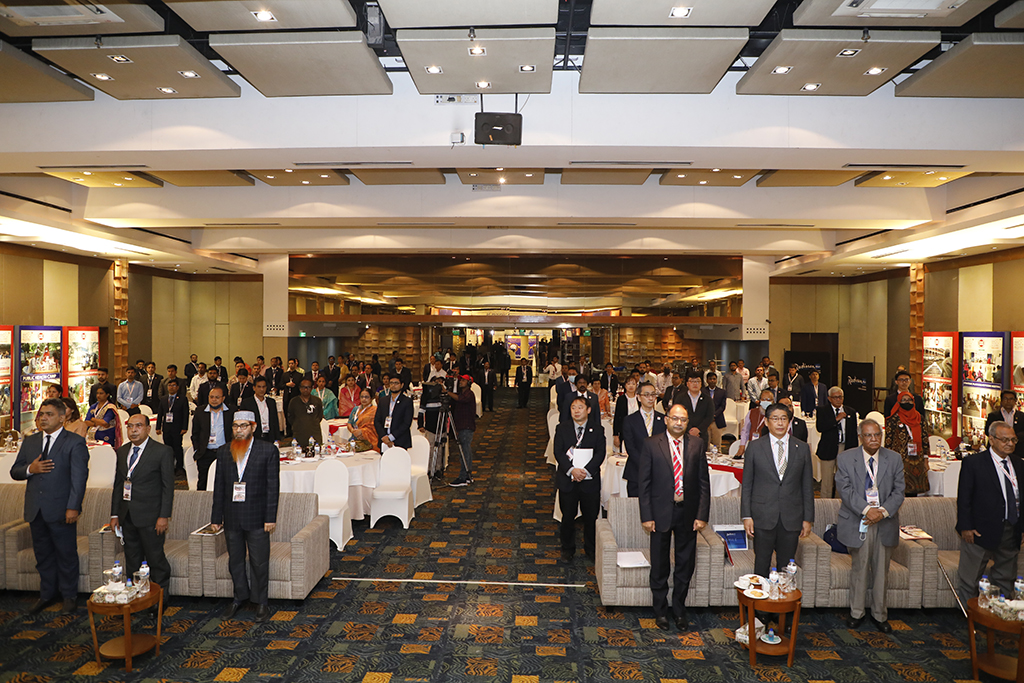 The symposium was held in connection with "Capacity Building Project for the establishment and Sustainable Management of a Multi-sector Platform for Disaster Management in Bangladesh" which is being jointly implemented by CIS and A-PAD.
This international symposium was held to build up a partnership between two leading disaster management organizations CIS and A-PAD that are in a strong position to tap and establish Multi-sector Platform in this region.
This symposium will help to ensure comprehensive participation and support of NGO, private organization, business groups and government for establishing multi-sectoral platform. The Main agenda of the symposium is to establish a Disaster Risk Reduction Network among various stakeholders, gathering knowledge, sharing information and experiences on disaster management strategies.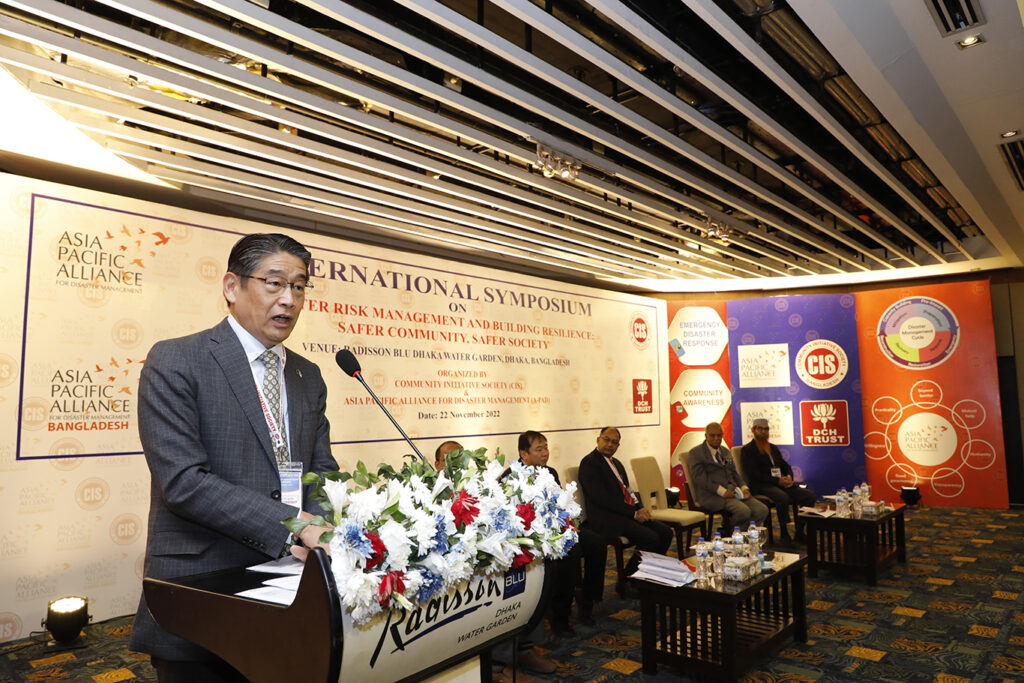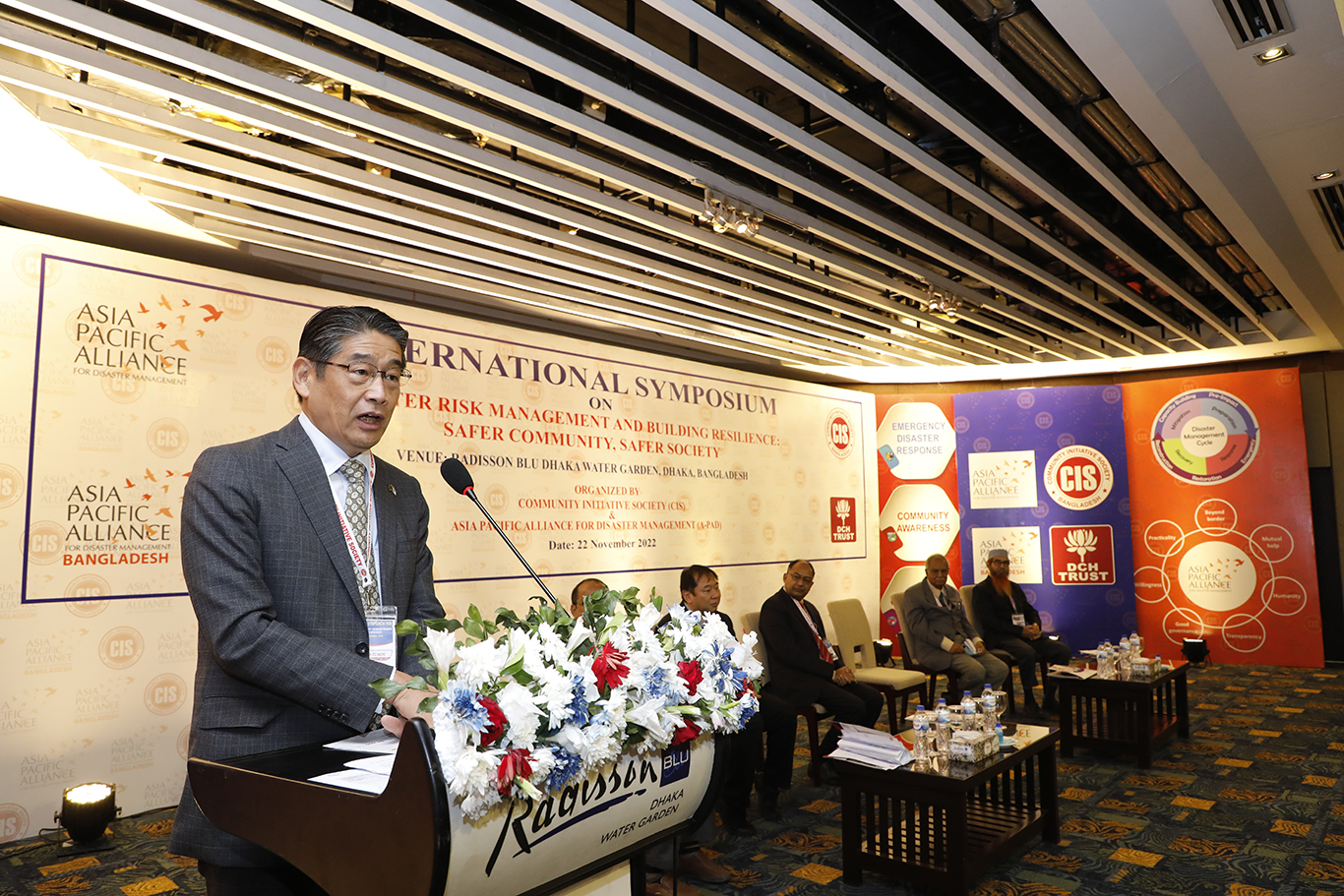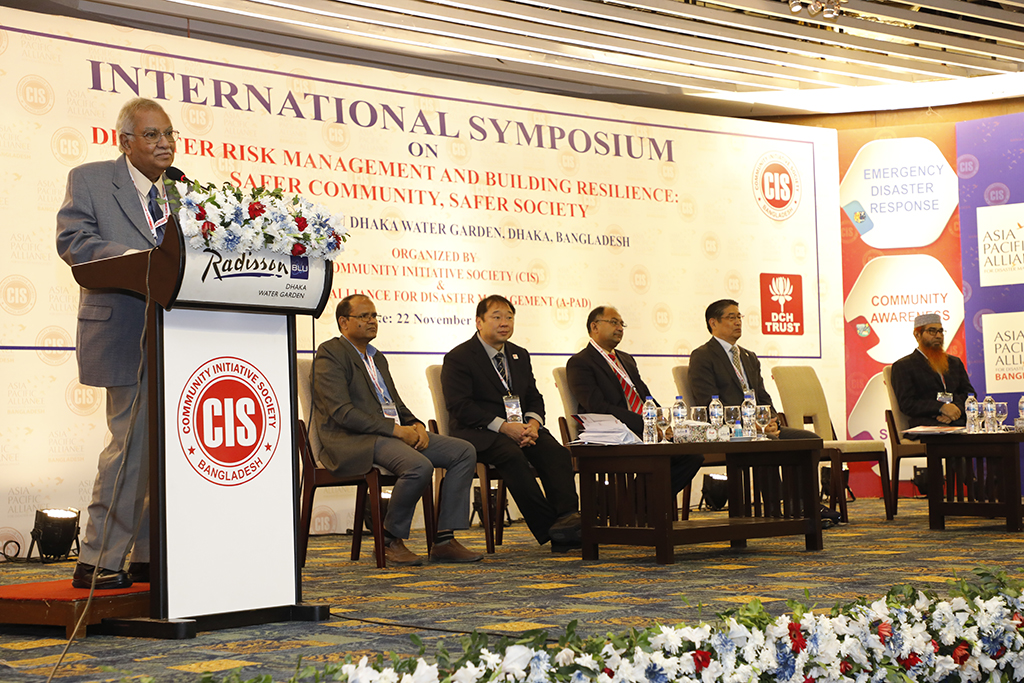 Mr. Kensuke Onishi, Chief Executive Officer, Asia Pacific Alliance for Disaster Management(A-PAD) gave an overview of A-PAD activities on South-Asia region. Prof Quazi Quamruzzaman, Chairman, CIS, A-PAD & DCHT shared his experiences on DRM and discussed on role of community in DRM sector. Md Kamrul Hasan ndc, Secretary of Ministry of Disaster Management and Relief, Government of Bangladesh praised the activities of CIS running in 7 divisions of Bangladesh and also admired the particular initiations for Disaster Risk Management (DRM) and emergency responses in different target areas of Bangladesh.
Mr. Saber Hossain Chowdhury, Member of Parliament, Bangladesh, Former President, Inter-Parliamentary Union gave a video messages on multi sector involvement for sustainable development. Mr. Nishchinta Kumar Poddar (Joint Secretary), Director (Planning), department of disaster management discussed on comprehensive participation of Govt. NGOs & other private organizations for DRR & sustainable development. His Excellency Mr. ITO Naoki, Ambassador, Embassy of Japan, Bangladesh discussed on the collaborative contribution of Japan & Bangladesh governments for disaster management and the understanding of disaster risk reduction and climate change adaptation to the disaster-prone communities.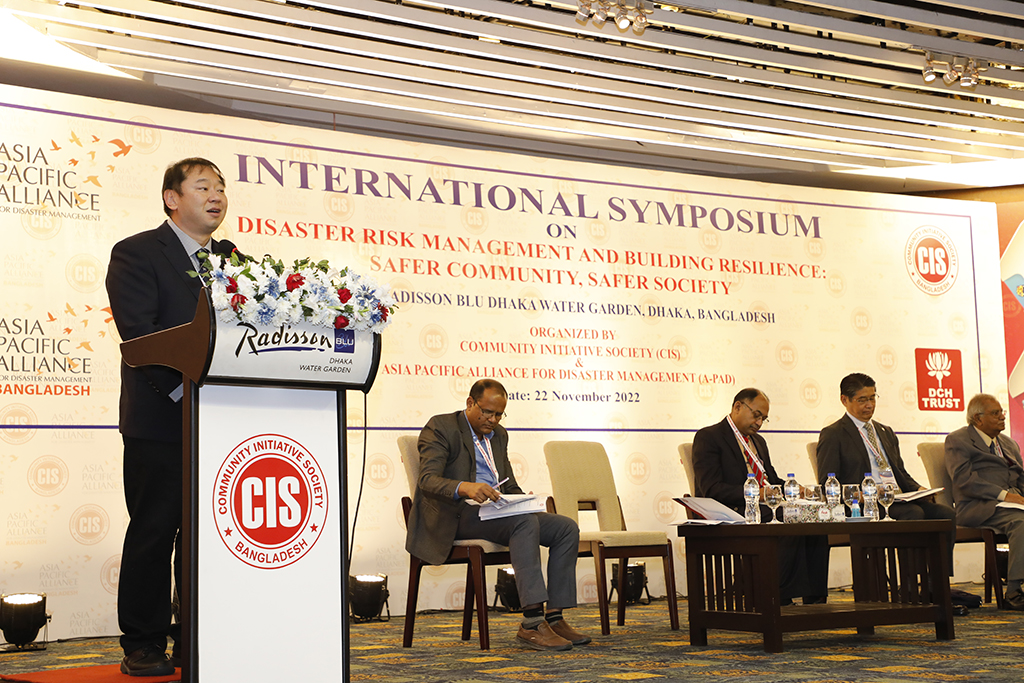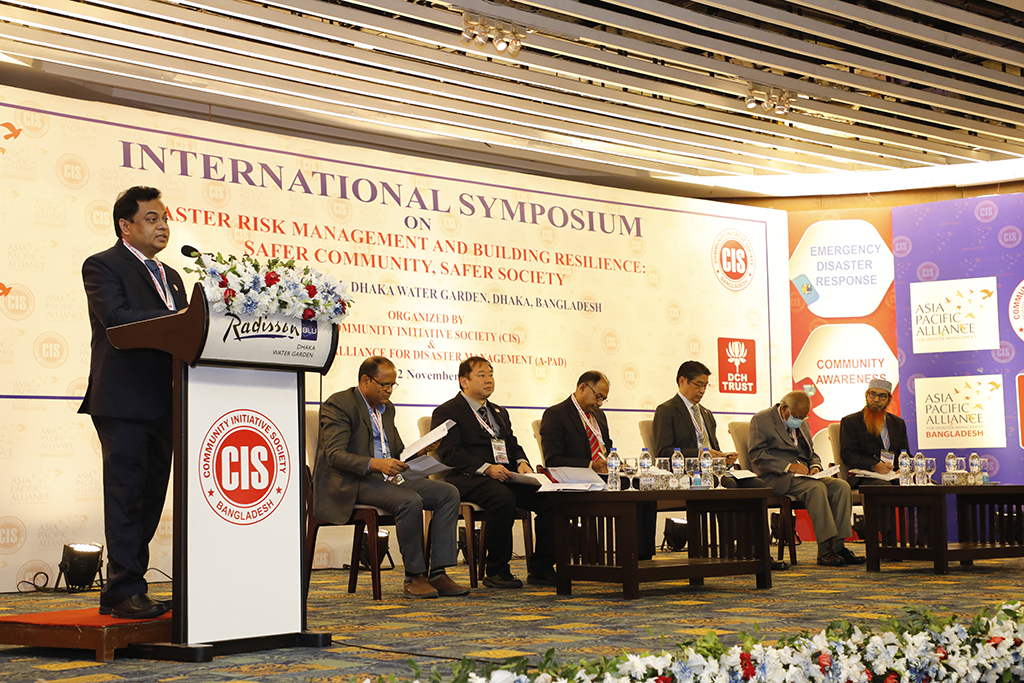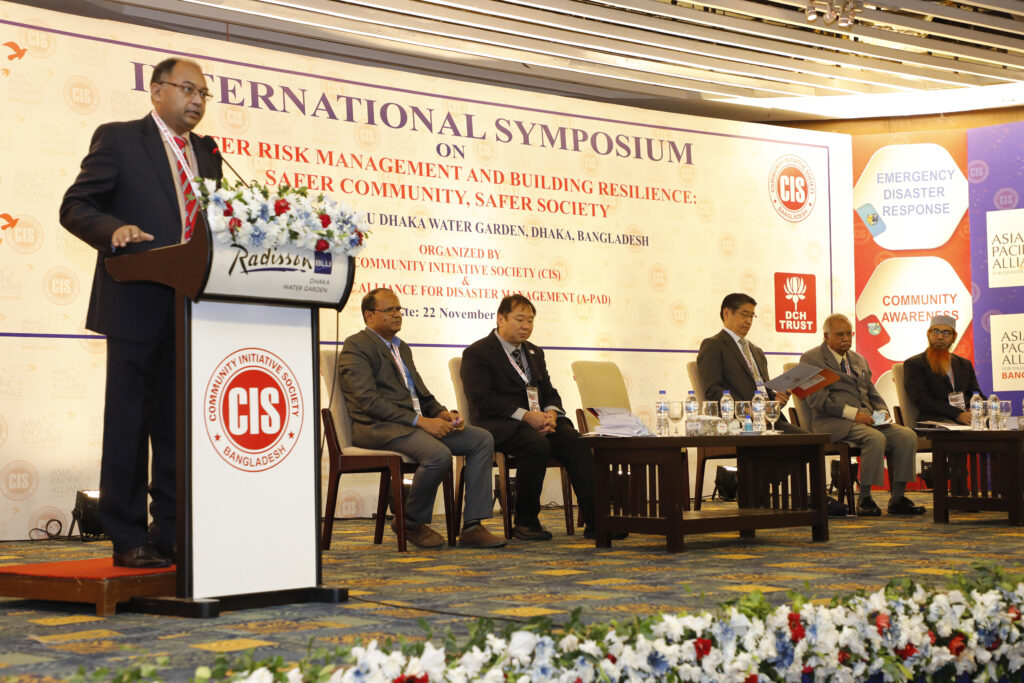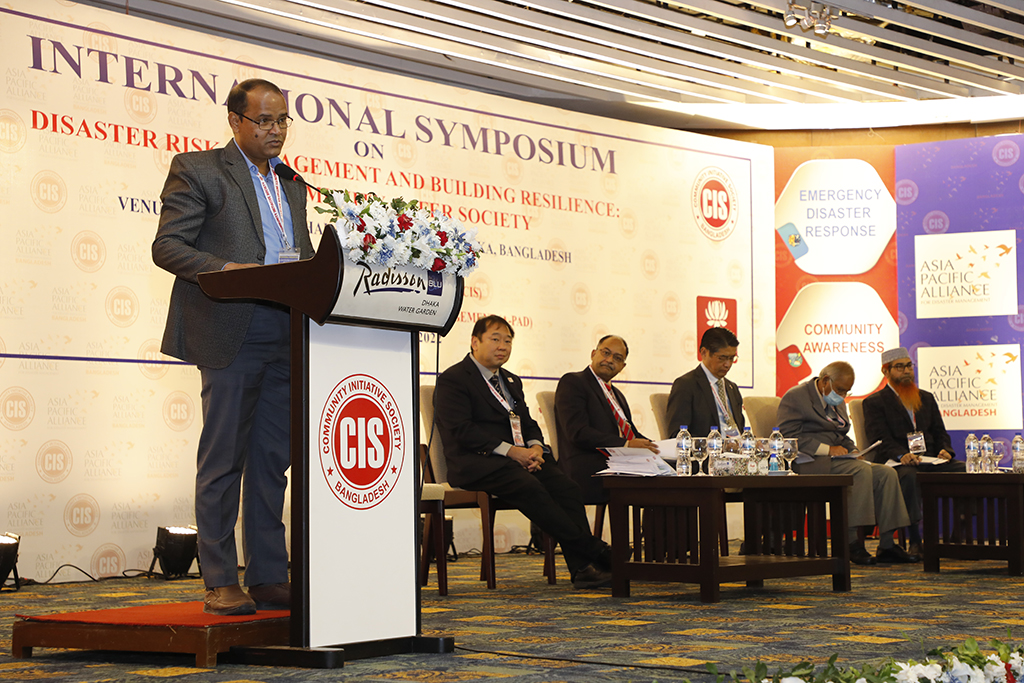 The citable panelists of the symposium were Hossain Ali Khondokar, Additional Secretary, Ministry of Health and Family Welfare, Government of Bangladesh, Abdullah Al Mamun, Director, Department of Disaster Management, Government of Bangladesh, Mr. Kensuke Onishi, Chief Executive Officer, Asia Pacific Alliance for Disaster Management(A-PAD), Masataka Uo, Director Strategic Planning, Networking and Development, A-PAD, A-PAD, Jangwoo Lee, Director, Funding Strategies, A-PAD, Sinta Kaniawati, Director, Global Partnership, A-PAD, Faisal Djalal, A-PAD Indonesia, Prof. Dr. Saria Tasnim, DCMC, Prof. Abu Saleh Monirul Alam, Principal, DCMC, Muhammad Ferdaus, Coordinator, Disaster Management, Brac University. Md. Sayeedur Rahman, Management Counselor, Bangladesh Institute of Management, GoB, Firzan Hashim, Country Director, A-PAD Sri Lanka, Chief Operating Officer (COO), A-PAD and Md Golam Mostofa, Executive Director, CIS, and other participants of the symposium were from the International and Local Platforms including from A-PAD member countries, Universities, NGOs and stakeholders from Government of Bangladesh, A-PAD partners, private Sectors, civil society and members of CIS & DCH Trust. The international symposium was moderated by Sadia Samad Mou, Dr. Md. Fuadul Islam & Gawher Nayeem Wahra.
The 3-hours long symposium ended with a vote of thanks. The participants were interactive and also vowed to bring about a change in the situation. Overall, there was an atmosphere to establish a Disaster Risk Reduction Network among various stakeholders and sharing experiences on disaster risk management