Background:
An extremely severe cyclone Mocha was a powerful and deadly tropical cyclone in the North Indian Ocean which was hit Myanmar and some parts of Bangladesh on May 2023 accompanied by sustained winds of 180-190 km/h and violent gusts, torrential rainfall and flooding. Mocha originated from a low-pressure area. After consolidating into a depression, the storm tracked slowly north-northwestward over the Bay of Bengal and reached extremely severe cyclonic storm intensity. After undergoing an eye wall replacement cycle, Mocha rapidly strengthened, peaking at Category 5-equivalent intensity on 14 May with winds of 280 km/h, the strongest storm on record in the north Indian Ocean, in terms of 1-minute sustained winds. Mocha slightly weakened before making landfall, and its conditions quickly became unfavorable. Mocha rapidly weakened once inland and dissipated shortly thereafter. Mocha rapidly weakened from Myanmar's rugged terrain as it was downgraded to very severe cyclonic storm intensity at 15:00 UTC. Wind shear also increased and contributed to the weakening. The vorticity in the atmosphere, pole ward outflow, and convergence would still maintain Mocha's intensity as a cyclonic storm throughout its deterioration. On 15 May, Mocha weakened into a depression at 00:00 UTC as it tracked east-northeastward. The depression
was later marked as a low-pressure area at 03:00 UTC, as its center was not well-defined, prompting the discontinuation of advisories on Mocha. Cyclone Mocha struck the coast between Teknaf, Saint Martin of Cox's Bazar, in Bangladesh, and Kyaukpyu Township, close to the capital of Rakhine, Sittwe, in Myanmar. It brought torrential rainfall, storm surges, flash floods, and landslides. Though Bangladesh was spared a feared catastrophe still cyclone Mocha caused significant damages including the destruction of homes, the downing of power lines, the loss of livestock, fishing boat, and fishing material damages, the lack of food, and the disruption of water power services, bringing down trees, tin roofs, and houses. The ensuing storm surges have also destroyed bridges and flooded many people's homes who live close to the seaside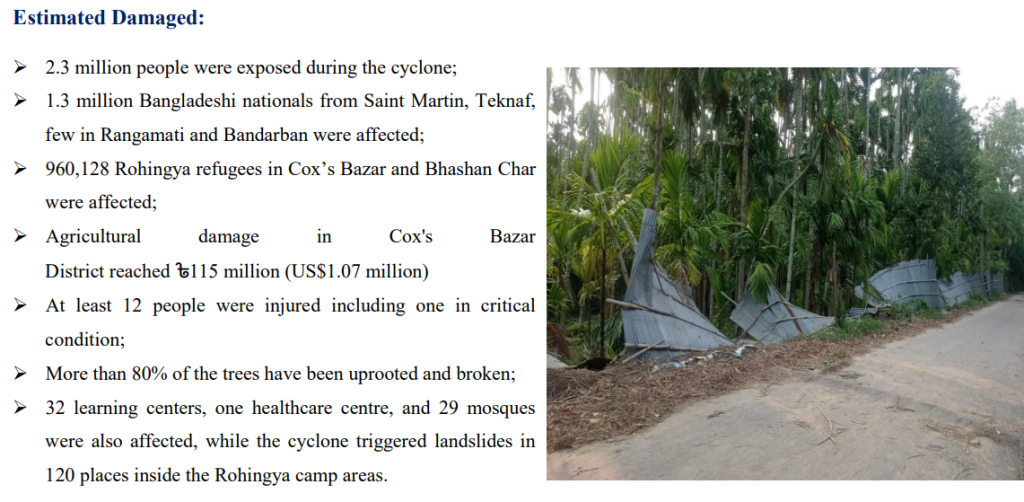 Humanitarian Needs:
 The affected areas were already in urgent need of food, as currency depreciation, inflation,
movement restrictions, and conflict result in high food prices that people struggle to afford. Food
prices increased by 14%;
Because of the monsoon season, heavy rainfall and thunderstorms are likely to continue for the rest
of the month in Bangladesh, which could trigger additional flooding, hamper recovery efforts, and
worsen existing needs;
The lack of electricity and the collapse and damage of cell phone towers caused by high winds have
disrupted communications;
More than 2000 houses were damaged which need to repair and establish which was costly,
There were already overcrowded areas, and shelters made with bamboo and tarpaulin are
vulnerable to severe weather conditions. Some shelters are located in hilly areas which face
problems of livelihood and basic needs;
In Bangladesh, St Martin's Island faces severe drinking water shortages. The suspension of trawler
movements between Teknaf and St Martin's has prevented the transportation of essential goods;
Rohingya refugee camps cover two-thirds of the area, and an initial field assessment indicated that
the cyclone had affected 1,060 WASH facilities, including 751 latrines, 261 bathing facilities, and
nine water networks.
In Teknaf camps, the shortage of drinking water means that the water supply is limited to 12L a
day per person;

Coordination with Government and Partner Organizations:
Bangladesh has prepared for the humanitarian response to Cyclone Mocha;
Organizations have prepositioned aid, including food and emergency shelters, to assist those in
need when the cyclone hits;
In preparation for Cyclone MOCHA, the government of Bangladesh took all reasonable measures
to reduce the loss of life and livelihoods.
A-PAD Bangladesh has also conducted numerous Rapid Need Assessments in the targeted
locations to evaluate the actual adversity on the ground.
Volunteers have actively assisted with evacuations, particularly for groups needing assistance, such
as people with disabilities;
A-PAD Bangladesh team in Cox's Bazar and other coastal areas that were likely to be hit by
Cyclone MOCHA worked in collaboration with the Cyclone Preparedness Program (CPP) team
and volunteers deployed by the government and took the initiative to aware the community of the
disaster's (Cyclone MOCHA) preparedness in every way possible.
Objectives:
The emergency response aims to provide support to the vulnerable communities of the cyclone-affected families by providing food items, non-food items, shelter materials and livelihood materials. A-PAD Bangladesh with the help of GOVT. officials chose the most affected people who need it. For supporting the emergency response A-PAD Bangladesh chose TeknafUpazilla for providing support. Food pack was made according to their food habit, shelter materials for establishing shelter, also non-food items to prepare the food, besides they also provide a fishing net so that they can recover themselves by improving their
livelihood. Besides this also provided the ORS for recovrering them from dehydration and water purification tablets for filling up the lacking of drinkable water.
Activities:
The proposed activities for an emergency response several times during the month of May-June 2023 at the TeknafUpazilla. Before purchasing the items A-PAD Bangladesh team go to the market for a survey and ordered the items according to a comparative study. So that after getting approval from the NGOAB it will not delay any more. The distributed items were distributed to different people according to their needs. A-PAD Bangladesh with the help of local GOVT. officials prepares the list for distribution. Firstly it was selected 100 vulnerable families were provided food packs, after that 100 families were provided non-food items, 100 families were provided shelter materials and 50 fishermen got the fishing net for restoring their
livelihood. Every family and affected people got the ORS and water purification tablets as that time was the major crisis of drinking water and dysentery and dehydration issues.
| | | |
| --- | --- | --- |
| SL NO | Name of Items | Total |
| 1. | Pack of Nourishing Food | 100 Families |
| 2. | Distribution of Non-Food Items | 100 Families |
| 3. | Distribution Shelter Materials | 100 Families |
| 4. | Distribution Fishing Net | 50 Fishermen |
| 5. | ORS Distribution | 2,500 persons |
| 6. | Water Purification Tablet Distribution | 2,500 Persons |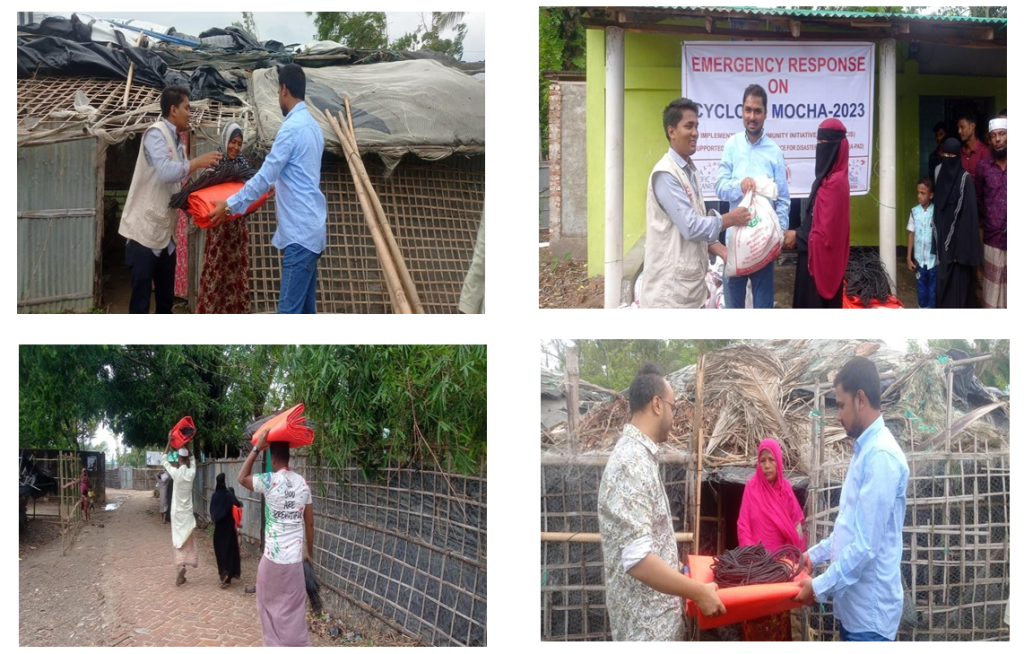 Partners Contribution:
DCH Trust supported providing ORS and water purification tablets;
DCH Trust and DHEM Foundation gave transportation support;
DHEM Foundation gave support of surveying with the A-PAD Bangladesh team to identify the vulnerable cyclone MOCHA affected people;
Seven One Limited gave the support of expertise and building materials to build

Conclusion:
In conclusion, proper strategic, tactical, and operational considerations in preparing a disaster management response are needed, not only to respond to the impacts of the natural disaster, but also for maintaining the continuity of life, and business while the crisis is being managed as well as for guiding the reconstruction and recovery effectively. Disaster management responses need to be sustainable because challenges are posed by the non-renewable use of the resource, population growth, climate change, and imbalances of wealth. It can be said that at its most basic level, preparing a disaster management response is more codified common sense. A-PAD Bangladesh did the survey properly so that every affected and vulnerable community got relief. A-PAD Bangladesh tried their best to support as many as affected people.