SCHOOL HEALTH SERVICE PROGRAM
SCHOOL HEALTH SERVICE PROGRAMSchool Health Service Programme (SHSP)
DCH Trust has developed health services initiative for the school children. It is now providing health services to 16 schools of Dhaka City and Pabna. The programme is operating since 1990. Under SHSP, DCH provides Health Education on Personal Hygiene, Safe Environment and Reproductive Health Education for adolescent girls and boys.
Aim of this programme:
To developpreventive and curative health care and health education to school children and there by the community. Purpose: To improve proper mental and physical development and healthy living habit among school children and thereby the community.
Activity:
A.General screening (every Year)
B.Service at school premises ( one per month)
C.Service at hospital.
Screening:Every child screensat least once a year for early detection of major complains/disabilities. The screeningisdone immediately after inclusion of the school the programme. Specialist doctors have confirmeddiagnosis visionineye,ENT,DentalandSkin.
Health check-up:Teachers primarily refer the studentsto doctor who need medical check-up. The doctors from DCH visit schools weekly providing primary health care services, threat sick children at school premises and advice for referral and provide health education.
Consultant Visit:Specialists visit is arrangedat school if necessary and agreed by school authority, parents and the charges accordingly.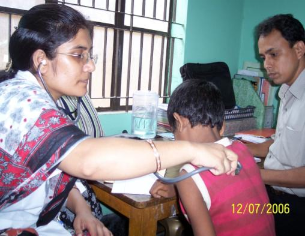 Health education and personal hygiene:The students give basic ideasabout health care education including pre-puberty and pubertal in the adolescent girls and boys and adolescent health care in groups and individually. Flip chart, poster and audio-video materials are used related with water and environment,Iodine deficiency, common diseases, how diseases spread etc.to make the subject attractive and meaningful. Discussion and feedback of lessons learnt alsofollow each session.
Health card distribution:Each student, teacher and other staff provide with a health cared at first contract. The health card registershis/her name, address, age, and height, weight ailments and treatment. The basic informationis usedas base-line health indicator of each student. Teachers also participate in filling the health cards and preserve it. Health care provide with 10% discount for all existing services if children come to hospital premises.
24 hours emergency service:Emergency medical service available for the students of target schools for 24 hours in DCH.
Teachers training:Training organizesby DCH for school teachers about their health related behavior towards students and primary care. The participants include one female and one male teacher of the target schools.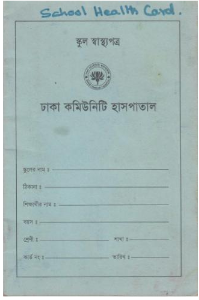 Improvement in the quality of children's health:Screening identifiesthe physical and mental health status of each student, which help adopting appropriate measures for management. The intervention by the programmme will ensure access to health care services for the target students.
Influence of health support to the children on their families:Association with the project influencesthe target children and their families to identify the risk and get suggestion howto avoid them. Distribution of health cards givestheir families useful information about the health status of their children and thereby they can take appropriate steps for maintaining the status of good health of their children.
Impact of health information of their families:Awareness of primary health care and information regarding adolescent health care create opportunity for the teacher and parents.
Change in the ideas of families to health services and practices:The service deliversinfluence the ideas of target children and their families for proper health care. The awareness about the primaryhealth care necessary for ailing children increase. Impact of training on teachers: Intervention change health related ideas of the teachers, Their capacity developsto apply their knowledge to teach children about health related issues and the changes that occur in the pre-pubertal and pubertal children. It makesthe teachers capable to deal with the physical and mental changes of this adolescent period. Their skill and capacity of counseling also developsmange and advice primary care.
Medical Officer visitseach school weekly/ monthly:The doctor complete the health check-up for the target students. Health card for each student use which is register his/her name, address, age, height, weight, ailments and treatment.Teachers participate in filling health cards and medical check-up.
Time schedule for visiting each school:It developsdepending upon the preferences of schools. If there is any change in the schedule hascommunicateto the school authority ahead of time. The school authority also informsDCH about any change from their end.
Mothers or others family members meetings:Arrange quarterly to share child health issues with school authorities and the children.
Consultants visit arrange twice a year:For Eye, ENT, Dental, Skin & pediatric consultations.
One-day workshop organizesto share:the experiences of DCH with school authority, parents and the students of schools.